INNOVATION IS NOT THE GOAL BUT A MEANS TO INSPIRE, CONNECT AND ENGAGE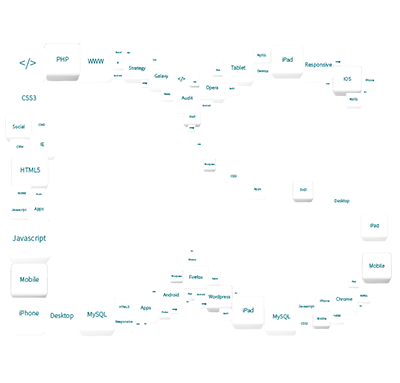 We believe websites with impact are websites that strike the ideal balance between convincing design, smart online marketing and solid technology. 
Our capabilities allow us to develop websites of all sizes and purposes that enhance a firm online presence, bring more leads and provide a visually pleasing and engaging user experience.
Jump to our solutions
DIGITAL EXPERIENCES
THAT ENGAGE
It's our passion to build distinctive websites that act as a window into your business.

We create digital experiences that do not only look great, but also engage visitors, communicate the message clearly and above all:
drive action.
HIGH PERFORMING MOBILE SOLUTIONS
From creating mobile web solutions and responsive designs to building custom web applications using the latest and proven web technologies we optimize the user experience.

The web experiences we create are high-performing, feature-packed and digitally transformative.
We're ready to inspire you to achieve digital success

OUR SOLUTIONS
Audit
Development
CMS
Web Design
Mobile First
ERP
WEBSITE AUDIT
Make your website perform better than ever
OVERVIEW
If there is a current marketing- and website-strategy, we conduct a website audit to determine if the results meet the goals derived from both strategies.

The audit includes aspects such as content, UX, page speed, responsiveness, metrics, mail clients APIs, Bloatware and security.

Based on the outcome of the audit we draw up a report that will lead to one of the following conclusions: Continuation, Improvement, Redesign or Reposition.
WEB DEVELOPMENT
Making things happen
OVERVIEW
Based on the website strategy, main goals and user types we initiate the website development process.

We start with a functional design: we create wireframes, a website structure and user flowchart. We select the best suitable platform infrastructure. This can vary from a template-based WordPress to Magento or a completely custom-built HTML/CSS/PHP solution. In the next phase we develop and customize the content framework using front- and back-end coding: PHP, MySQL, AJAX, CSS3, HTML5.
CONTENT MANAGEMENT
A scalable and easy to use solution for total control
OVERVIEW
The functionality of a CMS, Content Management System, has a great impact on the ability to edit and add new content like texts, designs or graphics to your website.

For popular platforms like WordPress and Magento we use built-in content management systems. These CMS's make it easy and fast to successfully create and maintain specialised online content like news, blogs and product information & downloads.
WEB DESIGN
Convince with creativity
OVERVIEW
A consistent design, great user experience and functional interactivity lay the foundation for a solid website with an excellent conversion rate.

By creating a style guide and combining the functional design with innovative technologies we ensure consistency and an intuitive online customer journey. To maximize online identity – whether or not with a template based platform – we build all UX designs from scratch without any design restriction.
MOBILE FIRST
The key to cross platform interface design
OVERVIEW
To optimize websites for mobile devices and Google rankings it is essential that the website is fast, secure and responsive.

Only a few years ago websites used to be developed mainly for desktop with very limited compatibility for mobile.

Nowadays it's the other way around: mobile is the very starting point for UX design, speed and Google ranking. Derived from mobile we create experiences for tablet, laptop and desktop.
ERP Web Integration
Streamlining for efficiency and revenue opportunities
OVERVIEW
Businesses that navigate ERP integration effectively can set themselves up for new revenue opportunities. But it can be a real challenge to synchronize the ERP system with a website ánd guarantee the best user experience.

Therefore we use back-end coding to integrate all necessary ERP data into the website and make relevant information 24/7 accessible in a secure way.






Get in touch with us if you are curious about how we can help you. We're always interested in new projects, big and small.